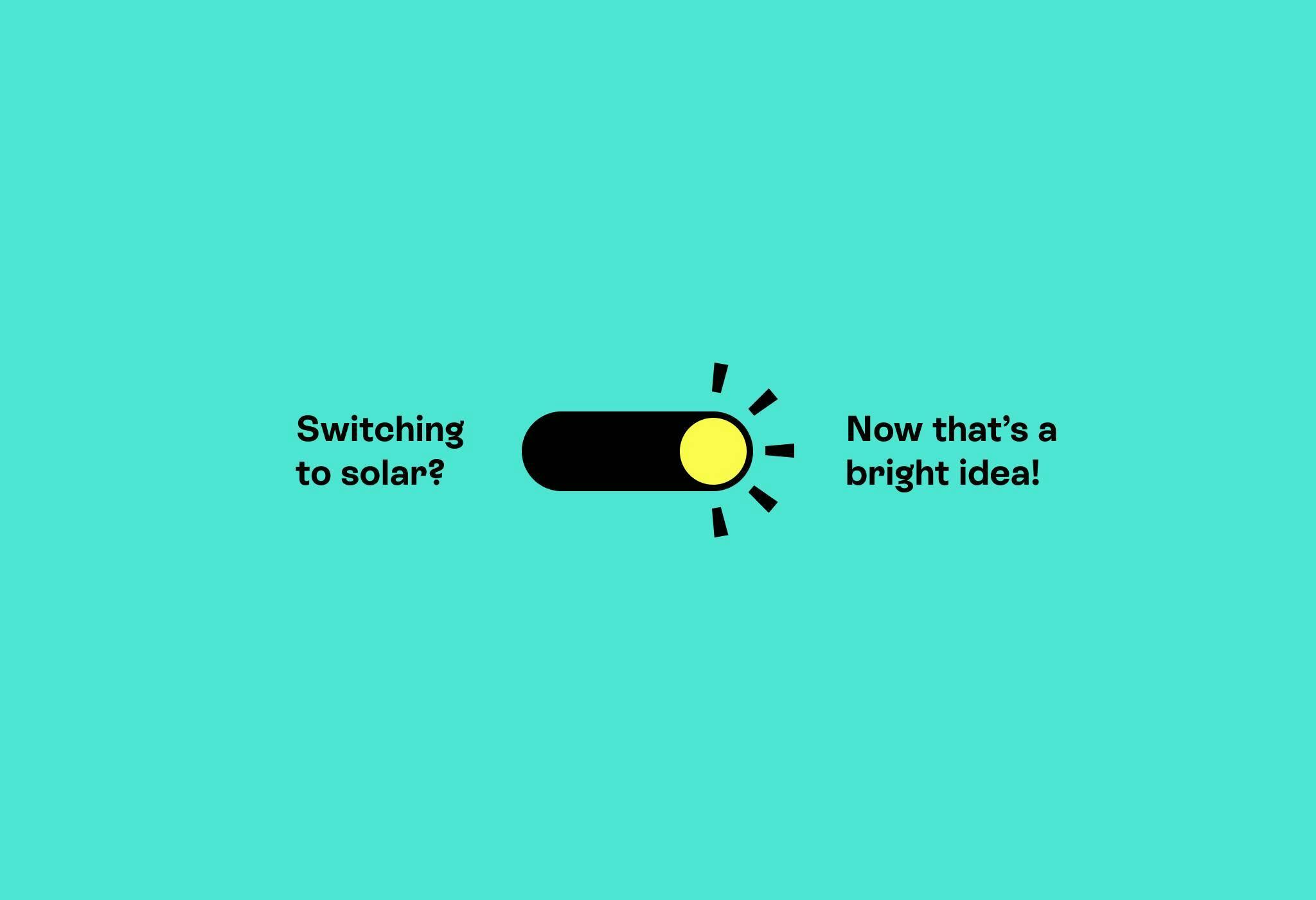 Solar PV system
25 February 2023
5 min read
10 reasons to switch to solar
Are you interested in finding out more about the benefits of solar energy? Perhaps you're solar curious? Or maybe you have heard mythical tales of huge energy bill savings and smart new technologies that mean you can maximise every ray of sunshine, even powering your home through the night?!
More and more homeowners are making the switch to solar power each year, and for good reason.

Now, we could wax lyrical about the wonders of solar for days, but we've been told that this isn't actually super helpful… So instead, we've put together our top 10 reasons why we think going solar is a brilliantly bright idea...
1. Save money on your energy bills
Let's start with the most obvious reason: solar power could save you over 70% on your electricity bills. And let's be honest, these days, that's a big old whack of cash.
By generating your own electricity, you can rely a whole lot less on the grid and avoid the pain of expensive and seemingly ever-rising energy prices.
2. Increase the value of your home
If you're thinking of selling in the future, you might be interested to know that solar panel & battery systems can increase the value of your home. In fact, According to studies from reputable sources (including Halifax, Rightmove, Scottish Power and WWF), adding solar is likely to add in the region of £4k-£8k to the value of your home. This is driven in part by improving the EPC rating of your home, as buyers have never valued high EPC scores as much as they do now.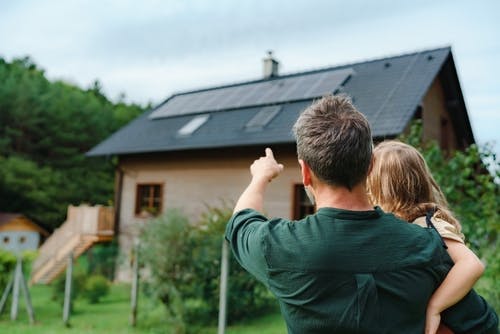 3. Reduce your carbon footprint
By going solar, you'll not only be reducing your energy bills, but also your carbon footprint. Solar power is a clean, renewable energy source that doesn't produce any harmful emissions.
So, not only will you be saving money, you'll also be doing your bit to help the environment. In fact, studies show that installing solar is one of the most impactful things you can do to reduce your carbon footprint. So if you're serious about your carbon impact, then it's probably time to get serious about solar too.

4. Enjoy energy independence
With a solar panel system, you won't be as reliant on the grid, or the volatility of grid supplied electricity. And with serious questions over conflicts in the Ukraine and other growing ethical concerns, there are a lot of reasons beyond just rising energy bills for why energy independence is becoming more appealing than ever.

5. Gain peace of mind
a) Low maintenance: Solar panels require very little maintenance, which means you'll save money in the long run. If you choose a top tier panel (like those Sunsave supply, ahem) then they'll come with industry leading warranties of 25 years, meaning they're guaranteed to keep working for literally decades to come (not something that can be said for my combi boiler).
b) Improved battery warranties: With inverter and battery technologies coming on leaps and bounds in recent years, if you choose a reputable company who only install top quality brands, then these components should also come with excellent warranties. For example, all the inverters and batteries Sunsave supply come with a 10 years warranty as standard.
c) Guaranteed installation standards: Unfortunately, the solar market wasn't very well regulated when solar first started gaining interest and as a result the industry saw some less than stellar selling tactics and well below par installation standards, which sadly led to solar getting a bit of a bad rep. Thankfully Solar is now far better regulated and there are a whole raft of accreditations and consumer rights bodies set up to protect people just like you, who are considering solar. Many of these are still voluntary though and therefore it's important to check that the company you sign up with have the right accreditations and certifications in place to ensure you and your home are fully protected.
We really care about the future of Solar and therefore, even if you don't choose Sunsave, we want to do all we can to help ensure you have a positive solar experience. We've written an article all about solar accreditations, what they mean and why they're important.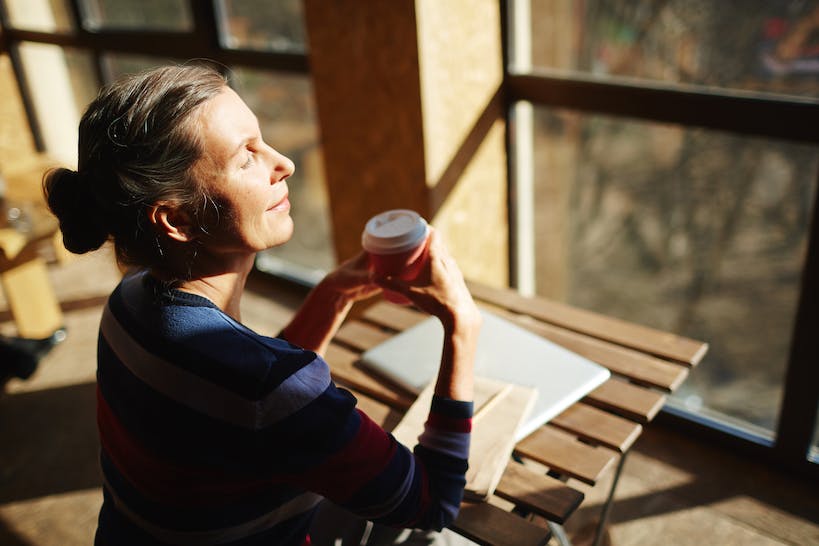 6. Maximise your savings with a smart battery
One of the most significant benefits of solar power is the ability to store excess energy with a smart battery system. By doing so, you can maximise the amount of solar energy you use, powering your home through the night, reducing your reliance on the grid, and most importantly maximising your energy savings by squeezing every penny out of every ray of sunshine. The advances in technology and reduction in costs in recent years have made solar storage way more accessible, and in our opinion a bit of a no-brainer.

7. Solar pairs perfectly with EVs & heat pumps
Clean, green tech like EVs or heat pumps are amazing for the environment and we're a big fan of them. However, we also appreciate that with energy costs at an all time high, they're less amazing for your electricity bill and bank balance.
But that's the beauty of Solar. Solar is one of the few clean technologies that actually generates electricity instead of depending on it, making solar the perfect partner you didn't know your EV or heat pump were waiting for.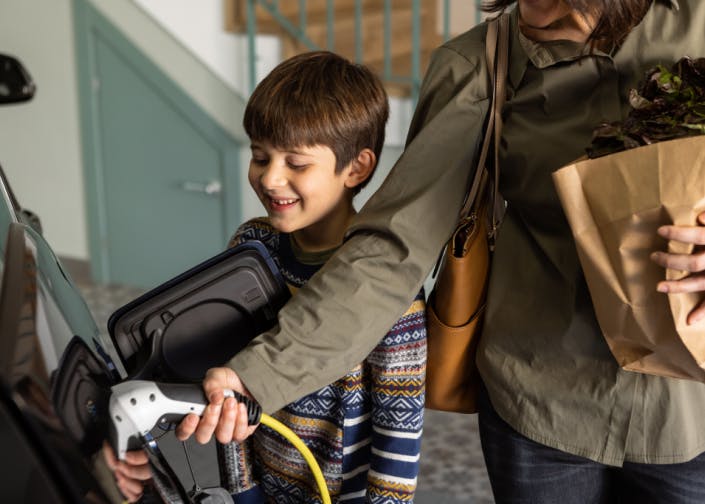 8. Help Britain reach Net Zero
The UK has set ambitious goals for reducing its carbon emissions and increasing its use of renewable energy sources. By going solar, you'll be doing your part to support these goals and help create a cleaner, more sustainable future. In fact, choosing solar is one the single biggest actions you can take against climate change. And we think that's pretty compelling.
9. Get energy companies to pay you
Yep, that's right! Enjoy turning the tables and have your energy company put a little cash in your pocket for once! The UK government offers a range of incentives, including the Smart Export Guarantee (SEG) - this scheme ensures that any excess electricity you produce, which is pumped back into the grid, is paid for appropriately. And while export tariffs have traditionally been a bit naff (we're just being honest here!), some contender energy companies are stepping up to the plate and beginning to pay a decent rate for clean energy. We're pushing hard for this move to continue and are excited to see things improving fast in this area.
10. Be the coolest house on the block
Okay, maybe this one isn't as serious as the others, but it's still worth mentioning. With a sleek, modern solar panel system on your roof, your home will stand out in the neighbourhood. With the thin, smooth, black profile of modern panels blending into your roof, they may not be super obvious, but for those in the know, they still make a statement about your commitment to sustainability.
Summary
So, there you have it: 10 great reasons to go solar. From saving money on your energy bills to contributing to a cleaner, greener Britain; the benefits are clear.
To explore the kind of savings you could make by switching to solar, simply click the link below, complete the 2 minute survey, and we will quickly and accurately assess your home's solar suitability. We'll even calculate roughly how much you'll save right there and then!
If you're keen to explore further, you can use the online calendar at the end of survey to quickly and easily book a call to speak with our friendly, expert team at time that suits you.
So what are you waiting for? Start exploring solar now!